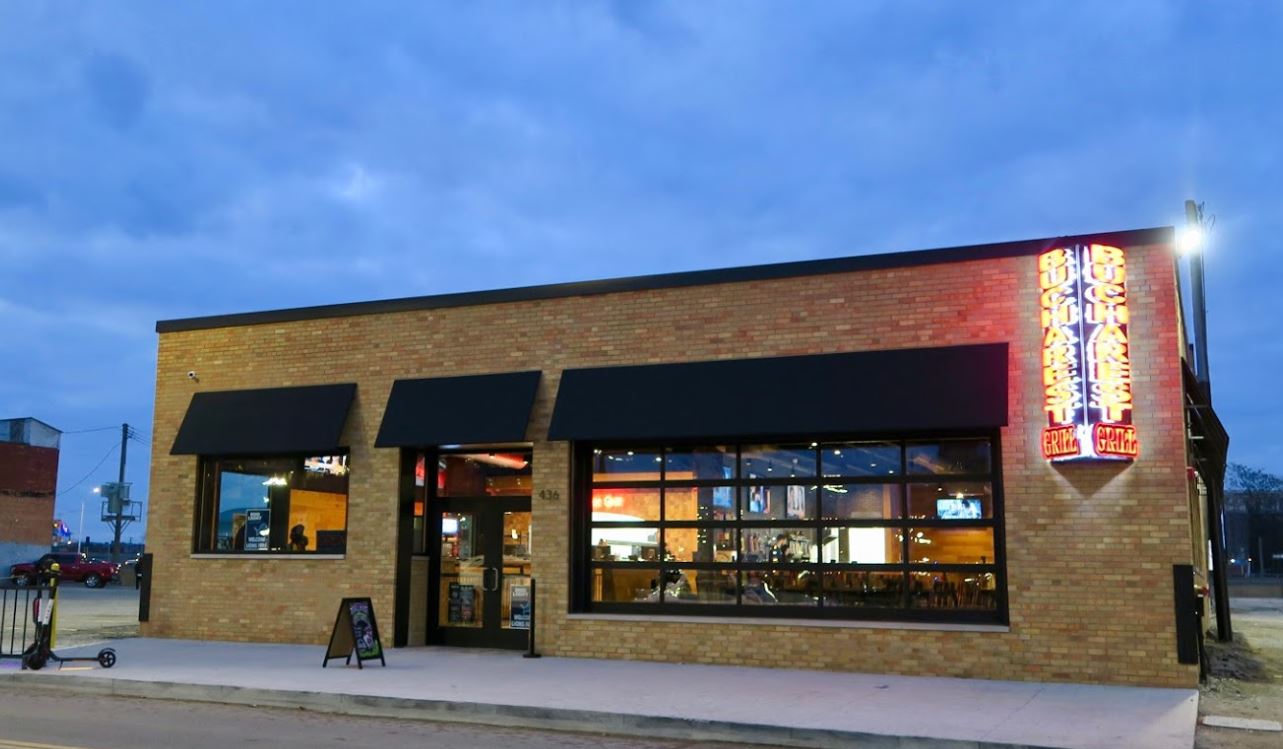 It's Fun Food Friday and this week we are featuring one of our favorite sandwiches the Chicken Shawarma from the place that makes the best one we've ever had…The Bucharest Grill. If you are not a downtown person you may not be aware of the Bucharest Grill. However they are making their way out of the city. They will be opening one in Royal Oak in March or April. If you are aware of them, then you know that their chicken shawarma is like no other…at least that I have ever had. It is made with chicken breast (and a lot of it) not thigh meat like most places use. Also, they put romaine lettuce and tomatoes on it along with the traditional shawarma toppings. Their Chicken Shawarma sandwich is huge! I have had ones that weigh in at over a pound a piece.
Teresa Becker and I found out about this place well over 10 years ago while downtown after a concert. It was late, probably 2:30 in the morning, and we were not exceptionally hungry so food wasn't on our minds. We passed Bucharest as we were walking back to our car. Someone walked out as we were walking by and asked if we had ever tried it, which we hadn't, and he strongly encouraged us to not let the opportunity pass so of course we ventured in. The original location, which was at Elizabeth and Park inside the Park Bar, was small (maybe 8 x 10) and there were 15-20 people waiting for sandwiches and more in line to place orders…remember this is at 2:30 in the morning. We figured that anything this crowded must be good. We were not mistaken! We have been hooked ever since. It is by far the best $6 you can spend in Detroit or you can get 6 for $30 which are served in a 6 pack holder.
Bucharest started in 2006, when the owner rented out the kitchen of the Park Bar to offer take out. They didn't have their own dining space but people would order food and take it into the bar to eat. This seemed to be working out for all parties since those people would tend to also order drinks. This worked out for nearly 10 years until 2016 when they decided to part ways. Some say that they were forced out by the bar (which ironically sold in 2017) but the owner of Bucharest says it was amicable. Many of the patrons thought this was the end for Bucharest Grill. However, it turned out to be the best thing that could have happened to them. There are now 5 locations in Detroit. I have only been to the Corktown and Downtown locations and I like the Downtown one the best. It is big and open inside with a full bar and plenty of TV's to watch any games that may be on.
They also offer other food such as salads, burgers, falafel, hummus etc…but they are known for their shawarmas.
#fooddudereviewed #funfoodfriday #bucharestgrill #chickenshawarma